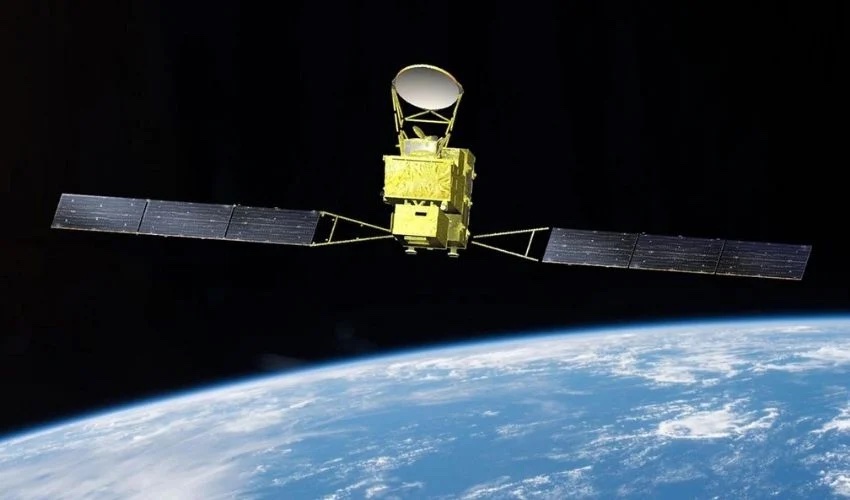 Mitsubishi has long been active in more than just the automotive sector. The Japanese manufacturer of electrical and electronic products has also been making use of additive manufacturing technology and the associated new market fields for some time. Recently the company announced, the development of a new technology for additive manufacturing which uses a combination of photosensitive resin and ultraviolet light in order to 3D print satellite antennas in the vacuum of outer space.
With the development of the newly developed liquid resin, the company is primarily targeting the challenge of manufacturing small, low-cost spacecraft buses with large structures. This means that reflectors for high-performance antennas can be made using additive manufacturing, subsequently also enabling the improvement of spacecraft structures, which thus become thinner and lighter.
Mitsubishi Addresses Design Challenges for Satellites
In the broadest sense, the three main requirements for spacecraft antenna design consist of high gain, wide bandwidth and low weight, all of which are conflicting with each other. The maximum gain and bandwidth to be achieved require a large aperture, but for economic and orbital use, the antennas must still be light and small enough to fit inside a launch vehicle. And this is where Mitsubishi Electrics' innovative approach comes into play: the resin-based manufacturing approach enables the efficient creation of antennas with high gain, wide bandwidth and large aperture.
Thanks to Mitsubishi's development of its own 3D printer, which focuses on extruding ultraviolet-curing resin in a vacuum, it will be possible to produce additive parts in space with a lower power consumption. Overall, the vacuum 3D printer offers quite a few advantages for antennas made from resin. For example, the size of the antenna is not limited by the 3D printing manufacturing method, and the need for antenna structures is also eliminated. In addition, the 3D printer developed by Mitsubishi enables the possibility of weight and width reduction, which thus contributes to the reduction of satellite weight and launch costs.
Extrusion and Curing in a Vacuum with the World's First Photosensitive Resin
Probably the biggest advantage that the new technology brings is that the photosensitive resin used for 3D printing is suitable for extrusion and curing in a vacuum. Normally, commercially available resins have a low molecular weight as well as a high vapor pressure, and are not made for vacuum applications in part because they polymerize prematurely. In Mitsubishi's case, a high molecular weight, low vapor pressure oligomer base is used – mixed with a vacuum-stable plasticizer based on a non-volatile polyphenyl ether – to achieve the appropriate viscosity. Upon successful polymerization, the resin becomes a solid with a heat resistance of at least 400°C – a temperature above the maximum heat within the orbit. Because sunlight is used for polymerization and curing, a separate UV light source is not required, resulting in lower power consumption.
Mitsubishi Electrics plans to continue bringing technologies and solutions to market in the future that will eliminate global problems and serve to simplify applications such as Earth observation. If you want to learn more about Mitsubshi's exciting project, you can find more information Lord†
What is your opinion of Mitsubishi's new technology for the creation of satellites in outer space? Let us know in a comment below or on our Linkedin† facebookand Twitter page! Don't forget to sign up for our free weekly Newsletter here, the latest 3D printing news straight to your inbox! You can also find all our videos on our YouTube channel.
*Cover Photo Credits: Mitsubishi Electrics