Takashi Murakami: Stepping on the Tail of a Rainbow
Takashi Murakami's expansive artistic universe is currently on view at The Broad in Los Angeles. Titled 'Takashi Murakami: Stepping on the Tail of a Rainbow', the exhibition marks the Japanese contemporary artist's first solo show at The Broad, and brings together 18 works created throughout his career as well as new digital immersive environments developed in tandem with the artist and his studio, Kaikai Kiki Co., Ltd. In these works, spanning sculpture, painting, wallpaper, and installations, Murakami explores subject matter such as globalization, postwar Japan, pop culture, and religious iconography.
At the heart of the exhibition are two of the artist's monumental paintings, '100 Arhats' (2013) and 'In the Land of the Dead, Stepping on the Tail of a Rainbow' (2014), 32-feet wide and 82-feet wide respectively. Also on view is the 1999 sculpture 'DOB in the Strange Forest (Blue DOB)', which features Murakami's iconic anime-inspired character Mr. DOB, one of many figures that the artist has created throughout his career.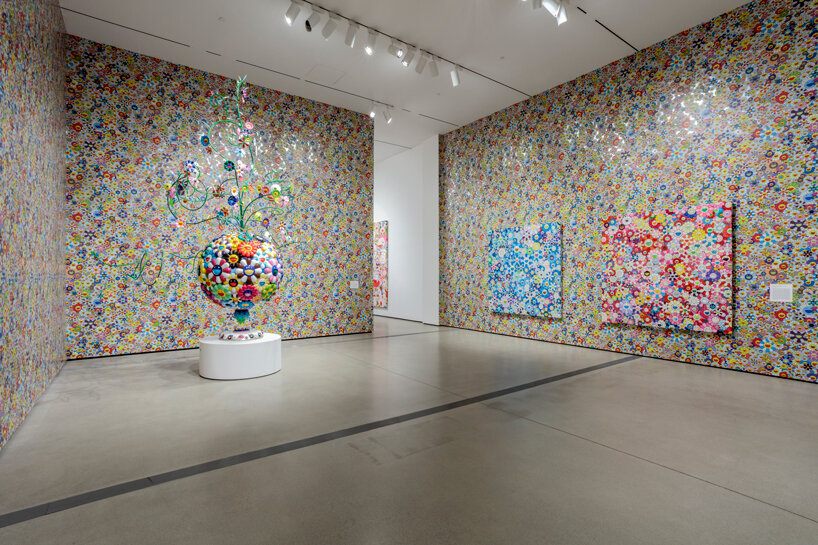 Takashi Murakami: Stepping on the Tail of a Rainbow at The Broad | all exhibition images by Joshua White
Augmented Reality + Immersive Features in Murakami's Exhibition
Featuring the entirety of the artist's works held by The Broad and new augmented reality (AR) virtual environments, 'Takashi Murakami: Stepping on the Tail of a Rainbow' will allow museum visitors to experience the artist's expansive artistic universe. For Takashi Murakami, 'the explosive interest in the metaverse and in virtual and augmented realities (AR) constitutes a societal and cultural sea change.' As part of The Broad's special exhibition with the artist, and in partnership with Meta's Spark AR, Instagram, and BUCK, Murakami uses AR experiences to connect his paintings and sculptures with these emergent realities and technologies. These AR features exist on top of and in relation to the physical world inside and outside of The Broad, including the East West Bank Plaza, the museum lobby, and one of the exhibition galleries. Through the Instagram app, Murakami characters step out of their physical forms and into a ghostly digital existence, harbingers of what is yet to come for Murakami's work and thinking. Additionally, the exhibition will coincide with the release of a catalog that considers the artist's practice through the Broad collection and key loans, published by DelMonico Books, The Broad, and Kaikai Kiki Co., Ltd. featuring essays by The Broad curator Ed Schad, Pico Iyer, and a conversation with Murakami.