83 min: Just wide from Crnogorcevic! Oshoala finds space on the left and swings a cross to the far post, where Crnogorcevic comes on the blind side of Morroni and volleys fractionally wide!
82 min "Martens hasn't made the impact on the game I was hoping," says Travis Giblin, "but she was entirely instrumental in their win last time, despite not scoring a goal. Without her none of the goals would have happened. There's still time for a nailbiter!"
81 min: Lyon Substitution A double change in fact. Perle Morroni and Janice Cayman replace Delphine Cascarino and Griedge Mbock Bathy.
79 minutes Mbock Bathy makes the most of an overzealous shoulder charge from Martens, then gets some treatment for cramp. The Barcelona players aren't impressed. Nor is their coach Jonatan Giraldez, who is booked for complaining.
78 min A Barcelona goal now would make things phenomenally interesting. But in truth they are struggling, with Lyon defending as comfortably as at any stage in the match.
77 min: Chance for Renard! That could have sealed it for Lyon. Bacha's driven free-kick from the right was half-volleyed wide by the unmarked Renard at the far post.
76 minutes A change for Barcelona: Claudia Pina for Fridolina Rolfo. I think that means a switch to three at the back.
75 minutes Oshoala misses a great headed chance from Rolfo's cross, though she was offside anyway.
74 min "I have a profitable idea and it's a risk free deal for you," writes Nikonova Natalia Grigorevna. "Contact me if you are willing to know more."
I'm afraid I couldn't possibly do business with somebody who doesn't hyphenate risk-free when it's used as an adjective.
water break And with that, it's time for the second drinks break of the night.
72 min: Lyon Substitution Eugenie Le Sommer comes on for the superb Melvine Malard.
70 minutes Barcelona are running out of time. I thought the second half would be one-way traffic but that hasn't been the case at all. In fact, though Patri hit the bar from near the halfway line, I don't think Endler has had a save to make.
67 min Barcelona are starting to get frustrated, both by their inability to score a second and Lyon's game-management. Macario goes down after wearing a stray arm from Crnogorcevic, and that eats up another 90 seconds.
64 min Macario is booked for kicking the ball away.
64 min Rolfo drives a hopeful cross-shot into the side netting. Meanwhile, here's that outrageous effort from Patri a few minutes ago.
62 min Oshoala breaks into space down the lef.. it's offside, forget it.
60 min There's a break in play while Endler receives treatment. She injured herself while trying to keep out that shot from Patri, presumably when she landed. She's okay to continue for now.
59 min: Double substitution for Barcelona Lieke Martens and Ana-Maria Crnogorcevic replace Marta Torrejon and Mariona Caldentey.
58 min: Patri hits the bar from 50 yards! My days, what an effort. A ball up to Macario on the halfway line was won by Leon and ran loose in the center circle. Patri spotted Endler off her line and drove a first-time shot that swirled over the keeper and smacked off the crossbar.
57 min Malard finds Horan on the left wing. She moves into the area, beats Torrejon with contemptuous ease and slides a low cross that is cleared by Rolfo.
55 minutes This is a good spell for Lyon, who have kept the ball a bit better since half-time.
52 min: Chance for Cascarino! Lyon continue to look so dangerous in transition. Horan plays a good angled pass to Cascarino, who is forced slightly wide by a sloppy first touch but still manages to leather a rising drive just over the bar. That was a really good effort from a tightish angle.
50 minutes After a good run from Macario, Malard shoots straight at Panos from the edge of the D.
49 minutes Henry fouls Bonmati 25 yards from goal, a fair way to the right of centre. Putellas tries a training-ground free-kick and makes a mess of it.
46 min peep peep!
Barcelona are making a half-time change: Asisat Oshoala is on for Jenni Hermoso.
"You must have performed some sort of ritual before the match, presumably like you do for cracking games, as this certainly is one," says Yash Gupta.
Trust me, I've also kissed plenty of frogs in my 18 years (gulp) of liveblogging.
Sign up for Moving the Goal posts!
If that first half doesn't make you want to read an entertaining, free, informative, free weekly women's football newsletter, then nothing will.

Half time: Barcelona 1-3 Lyon
Pick the bones out of that. What do you mean that's my job? Well, Lyon are 3-1 ahead but their lead feels precarious, such has been the madness of this game. Amandine Henry's astonishing goal put Lyon ahead before Ada Hegerberg and Catarina Macario gave them a barely believable 3-0 lead.
Barcelona, ​​who have been a nervous wreck in defence, changed the mood when Alexia Putellas volleyed past Christiane Endler.
Don't ask me what happens next; I'm still trying to make sense of what just happened.
45+2 minutes Hegerberg leaves one on Patri and is rightly booked.
45+1 min Cascarino mistimes a volley wide from Macario's floated cross. It wasn't an easy chance – the angle was pretty tight – but she'll be frustrated that she didn't connect properly.
45 minutes Four minutes of added time.
44 minutes This first half has flown by.
43 minutes "Firstly I'd like to echo the thoughts of Redmond Grimes: it's great to see the investment in the WSL – and these two are still miles better," says Adam Kline-Schoder. "I feel like Barcelona have been a bit one-dimensional in their play so far; the patterns aren't quite there and the ball isn't being moved quite quickly enough to evade the traps Lyon are cleverly setting for them. What a goal by Henry, what a player Hegerberg is, and what a game this has been. Enjoy!"
The captain Alexia Putellas has dragged Barcelona back into the game† The goal was made by Graham Hansen, who swung over a fairly standard, shin-high cross from the right. Mbock Bathy slipped, which allowed Putellas to run onto the ball and volley emphatically past Endler. That's a really good finish.
GOAL! Barcelona 1-3 Lyon (Putellas 41)
Hello!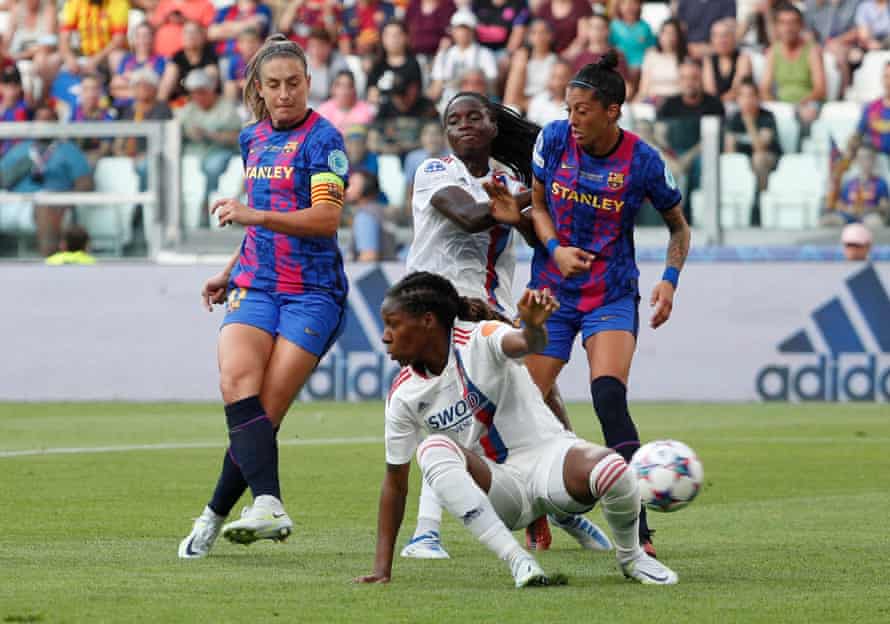 40 min For whatever it's worth, I still don't think this game is over. I will, of course, delete this entry and pretend it never happened if Lyon make it 4-0.
39 minutes Graham Hansen's cross from the right is beaten away nervously by Endler, who might have been unsighted. Barcelona still look pretty calm going forward; it's in defense that blind panic has set in.
38 min Hegerberg is giving a masterclass in centre-forward play. As well as scoring one and making two, her link play has been exemplary.
36 min After another rapid break, Hegerberg whips a shot that is beaten away by the flying Panos! Lyon are destroying Barcelona in transition.
Catarina Macario has made it 3-0 to Lyon after more outstanding play from Hegerberg. A desperate, weary clearance from Paredes, in her own six-yard box, was blocked by Malard. She gave the ball to Hegerberg, who played a quick-witted first-time pass across goal towards the unmarked Macario.
Macario miscontrolled the ball, as if in shock that she should find herself four yards out with an open goal, but the ball rolled off the post and into the net.
The instant pass from Hegerberg, which bisected five Barcelona players, was marvelous.
GOAL! Barcelona 0-3 Lyon (Macario 33)
Barcelona are falling apart!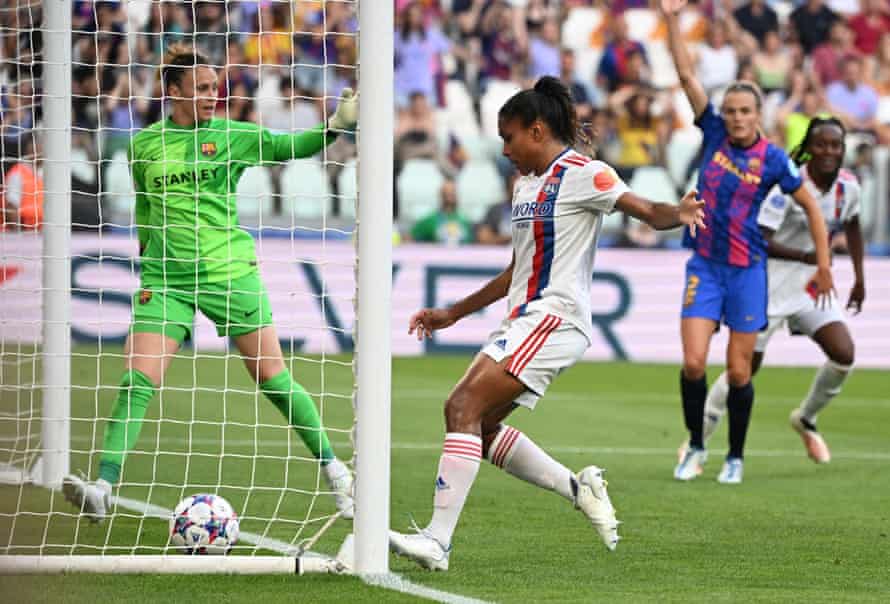 32 minutes Another chance for Hegerberg! A rubbish ball from Leon was intecepted, and suddenly Hegerberg was one v one with Paredes, the last defender. This time Paredes did well to hold Hegerberg up, and eventually she shot over the bar from the edge of the D.
water break It's really warm in Turin, almost 30 degrees, and the players are having a drink.
28 minutes There's the second one!
27 minutes This is pulsating stuff. It's not going to end 2-0, I'll tell you that for nothing.
25 minutes Hegerberg almost makes it three! Paredes played a dreadful, short backpass that was collected by Hegerberg. She tried to go round the outrushing Panos, who lunged feet first to make a vital tackle. Barcelona are a bag of nerves in defence.
It was another high-class goal from Lyon. The indefatigable Bacha played a slick one-two with Malard on the left and arced a beautiful cross towards the far post. The keeper Panos didn't know whether to stick or twist, and Hegerberg pulled away from Leon to head into the net with utter certainty. She's done it to Barcelona again!
GOAL! Barcelona 0-2 Lyon (Hegerberg 23)
There might be panic now: Lyon have gone 2-0 up!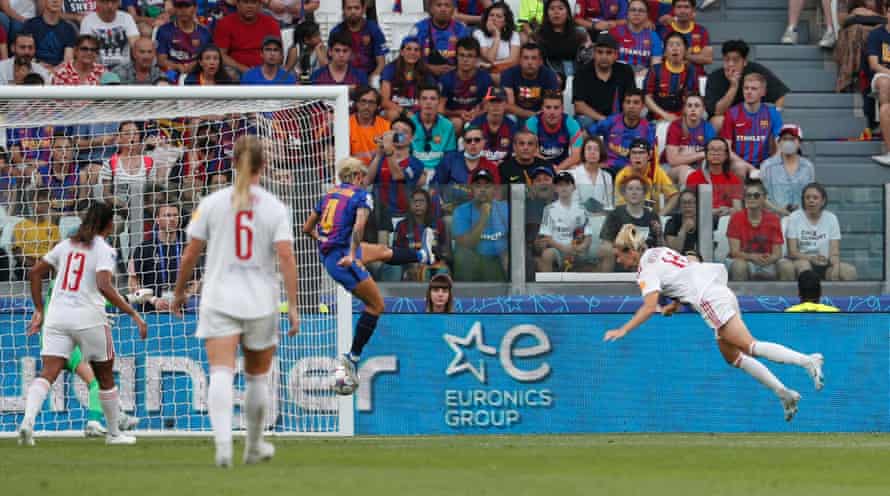 22 min Barcelona can't have gone behind too often in the last couple of seasons. So far there have been no signs of panic or frustration, though that might change if it's still 1-0 after an hour.
21 minutes "Couple early thoughts," says Travis Giblin. "First, WHAT A STRIKE by Henry. As a card-carrying member of the Irish nation I struggle to cheer for any French player named Henry, but that was incredible. Also, in the lead up to the goal, what an effort by Hegerberg. She was clearly missed by Lyon last season."
Yes, I was so distracted by Henry's strike that I forgot to praise Hegerberg for holding the ball up in the first place. She did superbly.
20 minutes Hegerberg wafts a bouncing ball wide of goal from about 22 yards. Lyon aren't having much of the ball but look dangerous when they do get it.
17 min "The WSL has come on leaps and bounds but these two teams are two steps ahead," says Redmond Grimes. "It could be a while before we see the likes of Chelsea, Man City or Arsenal win this."
indeed. You'd think three years minimum, even with the money in the WSL.
15 min: Great defending from Bacha! Rolfo runs at the substitute Buchanan and drives a low cross towards Hermoso, whose attempted shot is blocked brilliantly by Bacha in the six-yard box. Barcelona have responded admirably to the shock of going behind.
14 min: Lyon Substitution Poor Ellie Carpenter is stretched off to be replaced by Kadeisha Buchanan.