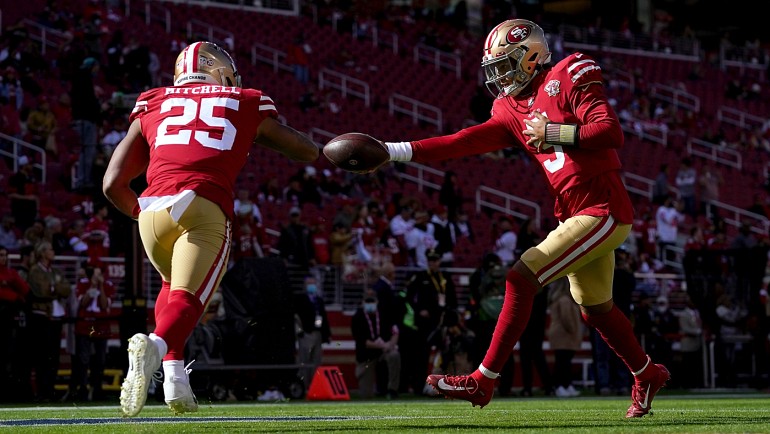 The NFL will announce the entire 2022 slate of matchups on Thursday night. That's when we'll learn the dates and times for all 272 regular-season games. However, we've known the opponents for a while now. If the San Francisco 49ers are to return to the playoffs for the third time in four years, it won't be an easy road.
San Francisco's upcoming opponents went 154-135 in 2021. The team's schedule will include seven matchups against opponents coming off a playoff appearance (Rams twice, Cardinals twice, Chiefs, Buccaneers, Raiders). Those opponents had a total winning percentage of .533 in 2021, which is good enough to tie with the Kansas City Chiefs as the fifth-toughest schedule based on the opponents' winning percentage (strength of schedule).
Only the defending Super Bowl champion Los Angeles Rams (.567), the Arizona Cardinals (.543), the Cincinnati Bengals (.536), and the Tampa Bay Buccaneers (.535) own tougher strength of schedules.
San Francisco will likely embark on their 2022 campaign with second-year quarterback Trey Lance at the helm of the offense. veteran Jimmy Garoppolo is expected to be traded after he recovers from his offseason shoulder surgery—assuming trade partners are still out there. That could make things more challenging for the team, which is coming off an NFC title appearance.
The hope is that Lance is ready for the responsibility, and the 49ers have publicly stated that they believe he is.
Below is the ranking of each team's strength of schedule for the upcoming season.
| rank | Team | Opponent's 2021 record | Opponents' 2021 win % |
| --- | --- | --- | --- |
| 1 | Rams | 164-125-0 | .567 |
| 2 | cardinals | 157-132-0 | .543 |
| 3 | Bengals | 154-133-2 | .536 |
| 4 | Buccaneers | 154-134-1 | .535 |
| T-5 | 49ers | 154-135-0 | .533 |
| T-5 | Chiefs | 154-135-0 | .533 |
| T-7 | Raiders | 152-136-1 | .528 |
| T-7 | Saints | 152-136-1 | .528 |
| 9 | Falcons | 151-137-1 | .524 |
| 10 | chargers | 150-139-0 | .519 |
| 11 | seahawks | 149-139-1 | .517 |
| T-12 | Steelers | 148-141-0 | .512 |
| T-12 | panthers | 147-140-2 | .512 |
| T-12 | Bills | 147-140-2 | .512 |
| 15 | Broncos | 147-142-0 | .509 |
| 16 | Patriots | 143-144-2 | .498 |
| T-17 | jets | 142-145-2 | .495 |
| T-17 | browns | 142-145-2 | .495 |
| 19 | Texans | 141-148-0 | .488 |
| 20 | Vikings | 139-148-2 | .484 |
| 21 | Dolphins | 138-149-2 | .481 |
| 22 | packers | 137-150-2 | .478 |
| 23 | Ravens | 136-151-2 | .474 |
| T-24 | bears | 135-152-2 | .471 |
| T-24 | Titans | 136-153-0 | .471 |
| T-26 | Jaguars | 135-153-1 | .469 |
| T-26 | Colts | 135-153-1 | .469 |
| 28 | Lions | 135-154-0 | .467 |
| 29 | Giants | 134-154-1 | .465 |
| 30 | Eagles | 133-154-2 | .464 |
| T-31 | Commander | 133-155-1 | .462 |
| T-31 | cowboys | 133-155-1 | .462 |
49ers' 2022 opponents
HOME (9 games)
Arizona Cardinals

Kansas City Chiefs

Los Angeles Chargers

Los Angeles Rams

Miami Dolphins

New Orleans Saints

Seattle Seahawks

Tampa Bay Buccaneers

Washington Commander
AWAY (8 games)
Arizona Cardinals

Atlanta Falcons

Carolina Panthers

Chicago Bears

Denver Broncos

Los Angeles Rams

Las Vegas Raiders

Seattle Seahawks
Nobody's perfect. Did you find a mistake in this article?
Report it†
Facebook Comments
More San Francisco 49ers News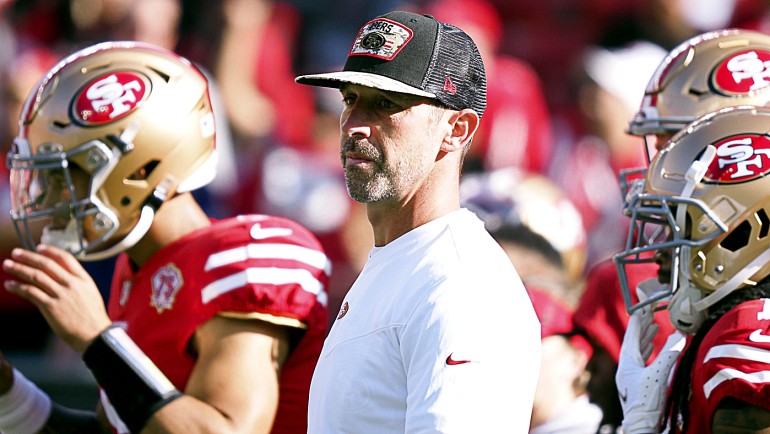 Why NFL.com names 49ers-Dolphins among its top 10 games of 2022
The San Francisco 49ers face the defending Super Bowl champion Los Angeles Rams twice. They also face the Raiders for the first time since the latter left the Bay Area for Las Vegas. The two once-local rivals will play at Allegiant Stadium. The 49ers also host briefly-retired Tom Brady and the Tampa Bay Buccaneers. Every time the Niners face Brady, fans are treated (said sarcastically) to stories about how the future Hall of Fame quarterback loved the Bay Area team growing up and dreamed of playing for the 49ers. He has won seven Super Bowls since. Or, more recently, how the Niners passed on signing Brady in 2020. The quarterback went on to win that seventh Super Bowl that season. None of those matchups are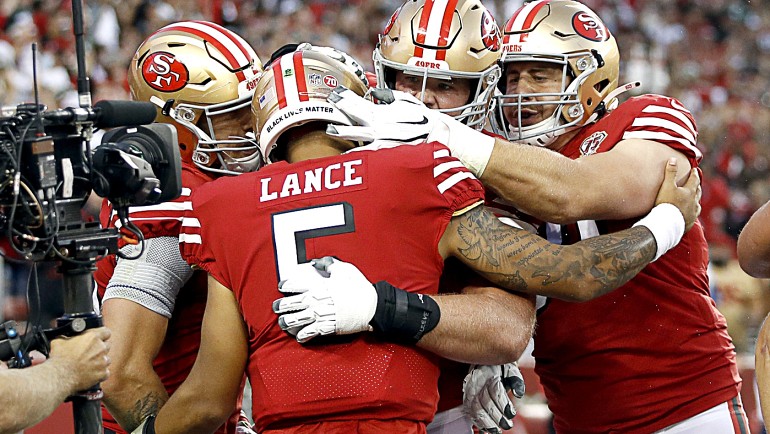 Creating the ideal 2022 San Francisco 49ers schedule
As I searched the world wide web for exciting things to bring to the world, I couldn't help but draw inspiration from the great Matt Barrows of The Athletic. In a recent mailbag article, a fan presented the task of creating the ideal San Francisco 49ers schedule based on what we already know for home/away opponents. Here is my dream schedule for the 2022 49ers season. Week 1 vs. Cardinals – This would be a home game for the 49ers and must-see television. Trey Lance would get a second chance at the team that handed him his first loss. Kyler Murray vs. Lance is pay per view quality. Week 2 at Panthers – Now that Lance got his feet wet, he should have no problems commanding his troops against the Carolina Panthers. I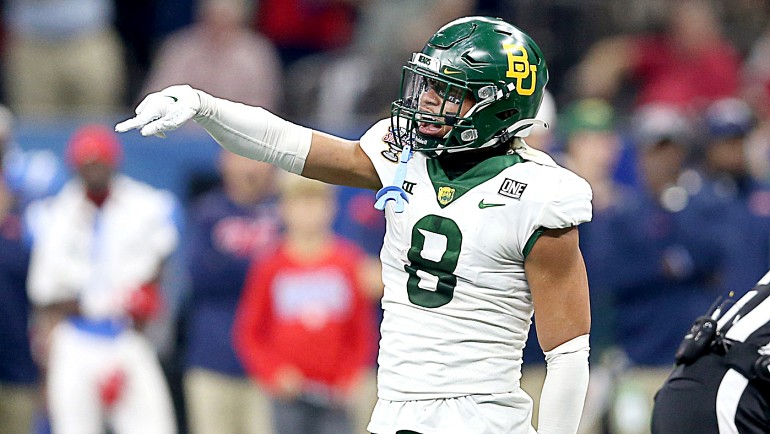 Good second-round options for the 49ers in 2022 NFL Draft
With the first round of the 2022 NFL Draft now in the books, the picture begins to get a bit clearer on who the 49ers may select with their second-round pick. The 49ers hold the 61st pick in the second-round of the draft and what position they draft for is unknown, however this draft class seems to be deep at the right positions for San Francisco. Many mock drafts have the 49ers selecting a defensive back or possibly an EDGE, but either way the 49ers will have plenty of solid players to choose from. S Jalen Pitre (Baylor) : It's unlikely that Pitre is still there this deep in the second-round but if he slips to the 49ers they should pounce. Pitre would a bring a multipurpose the 49ers secondary desperately needs, with Charvarius Ward now on the outside with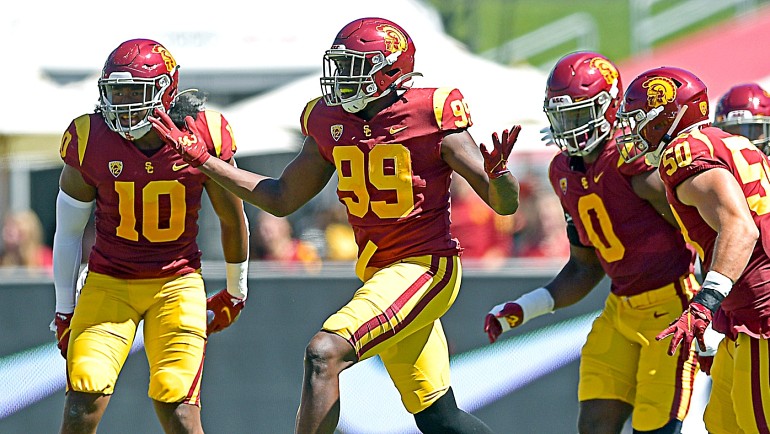 Analysts offer mixed grades for 49ers' 2022 Day 2 draft picks
There's more instant analysis than ever these days when it comes to the NFL Draft, but fortunately we're here to help you sort through it all in a hurry. Analysts from around the Internet were hard at work offering grades for each team's decision as selections rolled in during Rounds 2 and 3 of the 2022 NFL Draft, with the San Francisco 49ers being included in the fray after not having a draft pick on Day 1. The reactions to the three choices the 49ers made on Day 2 were decidedly mixed. Most analysts liked the selection of USC edge defender Drake Jackson at pick 61 overall in Round 2, with a couple giving the choice very high praise. The reviews for the selection of LSU running back Tyrion Davis-Price at pick 93 overall in Round 3 were not nearly as kind, while
†